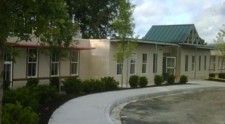 The Preschool in North Andover MA is located at the Early Childhood Center at 115 Phillips Brooks Rd North Andover, MA.
There are currently 60 students attending this school. The student:teacher ratio of 15:1 is higher than the MA average of 12.6:1.
The school days run Monday through Thursday in 2 different sessions:
AM Sessions: 8:45- 11:15 a.m.
Lunch Bunch: 8:45 – 12:30 p.m.
Full Day: 8:45 – 2:45 p.m.
PM Sessions: 12:15 – 2:45 p.m.
Tuition: $320.00 per month or $3200.00 per year
$320.00 per month or $3200.00 per year for the 2.5 hour program
$420.00 per month or $4200.00 per year for the lunch bunch program
$520.00 per month or $5200.00 per year for the full day inclusion program
The North Andover Preschool's mission is to help build a community through timely and practical fundraising initiatives, sharing of ideas and communication while unifying and supporting faculty, staff and parent volunteers.
Their unique program offers an appropriately structured and supportive learning environment for children of all abilities. Their dedicated and caring support staff work as a team to provide a safe environment and a rich curriculum whereby all children are encouraged to grow socially, emotionally, cognitively, creatively, and physically. Adult/child interaction is one of mutual respect with a common goal of promoting each child's sense of confidence and feeling of self-worth.
Their preschool program curriculum correlates with the goals and curriculum of the North Andover Public Schools as well as the Massachusetts Early Childhood Program standards to provide consistency and easy transition for all children beginning their education here in the North Andover School system. The preschool program provides a strong beginning step in the exciting years ahead in the North Andover School System.
Visit the North Andover Public Schools website for more information
Request a FREE valuation of your home in North Andover, MA
Search Homes for Sale in North Andover, MA