Nature, History, & Community are the pillars that support North Andover's foundation.
Family Friendly
The town Department of Youth Services operates recreational opportunities at Stevens Pond and extensive programs from the Youth Center located at Old Center. Local youth sports leagues include Little League, soccer, youth hockey, and lacrosse. Stevens Pond Beach is open to residents with season passes for lifeguard supervised summer swimming and for youth swimming lessons. During winter months, the Brooks School opens its rink to residents for Sunday night skating. North Andover values community members of all ages. A vibrant Senior Center, located behind Town Hall on Main Street, provides services, programs, and assistance to over 6,000 seniors.
Community Preservation Act
North Andover is one of the first communities in Massachusetts to take advantage of the Community Preservation Act, an innovative funding source which can be used to address the following community concerns: acquisition and preservation of open space, creation and support of affordable housing, acquisition and preservation of historic buildings and landscapes, and creation and support of recreational opportunities. Local funds are matched by the state.

North Andover Youth Services
Founded in 1988 as a one-year pilot program, North Andover Youth Services today is a vital part of the town and serves close to 3,000 middle school and high school aged young people. This multi service non profit agency coordinates a variety of services that range from recreation, sports, and outdoor adventure to counseling, tracking, and crisis intervention with young people and their families.
The 18,000 square foot Joseph N. Hermann Youth Center is home base to NAYS staff and services as well as a multipurpose center for North Andover youth. Facilities include a full gymnasium, weight room, basketball court, indoor rock wall, skate area, lounge, kitchen, counseling rooms, and computer room. Programs include adventure programs, support services, social events and activities, a job bank, youth council, volunteer groups and activities, summer programming, and much more.
The volunteer North Andover Booster Club has delivered quality athletic programs and community spirit since 1950. Today, the NABC provides sporting opportunities to over 1,300 young men and women participating in basketball, football, cheerleading, wrestling, softball, volleyball, track and field, and field hockey.
Family Farms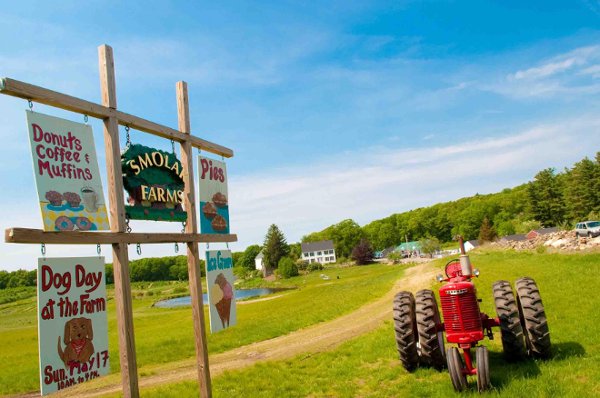 Smolak Farms
A visit to the 300 year old Smolak Farms combines agriculture, education, and entertainment. Visitors come to pick your own at the orchards (from strawberries to Christmas trees) and shop at the farms bakery and farm stand.
Barker Farm
Barker Farm is a 195 acre farm and is the oldest operating farm in New England in continuous same family ownership. Barker Farm was a dairy farm until recently. Corn and apples are the crops grown today. The picturesque agricultural landscape stretches along Barker and Bradford Streets.
Boston Hill Farm
Boston Hill Farm is located on Rt 114 and is a 1,000 acre property with a Greek Revival farmhouse, orchards and a farm stand. A saw mill is reported to be on the property as well.
Weir Hill
Weir Hill is a 194 acre park which offers scenic vistas from trails that pass over the crest of the 305 foot double drumlin and track the shore of Lake Cochichewick, the largest lake in Essex County and the town's water supply. Activities include hiking cross country skiing, trail running, and mountain biking.
Harold Parker State Forest
Located on over 3,000 acres in 4 different towns including North Andover, Harold Parker State Forest offers hiking, mountain biking, fishing, hunting, horseback riding, swimming, camping and picnicking. The forest has over 35 miles of logging roads and trails plus 11 ponds. Camping and swimming at Berry Pond is available seasonally.
Places of Interests
North Andover is a quintessential New England town with over 3,000 acres of open space, farmland, and farms (open to the public), historic places of interest, museums and more.
State and National Registers of Historic Places
North Andover's National Register program includes three NR Districts: Old Centre, Machine Shop Village and Tavern Acres. Individual NR Properties include: Osgood Hill(the Stevens Estate), the George Kunhardt Estate (Campion Hall), the Abiel Stevens House, two that are also in a district – the Parson Barnard House and the Kittredge Mansion.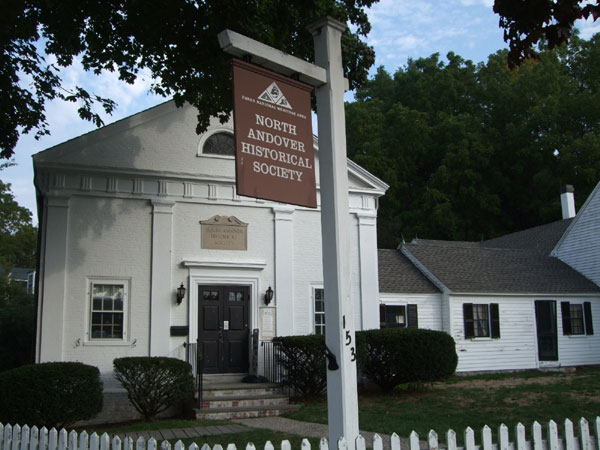 The North Andover Historical Society
Founded in 1913 and dedicated to preserving local heritage and bringing it to life, the non-profit North Andover Historical Society provides children's programs, guided tours, lectures, workshops, craft demonstrations, exhibits, architectural walking tours and publications. The Society also preserves and interprets five historic buildings: The Parson Barnard House, the Carriage Barn, the Stevens Mills Depot, the Hay Scales Office Building, and the Johnson Cottage. Through architecture and artifacts, each building reflects a different view of North Andover's pre-industrial past. The Parson Barnard property is open seasonally, but the Headquarters at 153 Academy Road, including Johnson Cottage is open year round.
The Stevens Estate at Osgood Hill
Located on 153 acres on Osgood Hill, the Stevens Estate is on the National Register of Historic Places and as built in 1886 by Moses T. Stevens, a prosperous owner of textile mills and a member of one of the founding families of North Andover. Purchased by the town in 1995 to preserve the building and grounds, this historic mansion is now a venue for weddings, conferences, and events. The Estate can accommodate up to 220 guests on the tented cobblestone terrace and up to 180 inside. Well maintained grounds include an in-ground pool, bocce, and volleyball courts, horseshoes, croquet, and basketball, along with beautiful woodland trails. The house and outbuildings were designed by Boston architects Hartwell & Richardson. The beautiful oak and mahogany paneling, leaded stained glass windows and imported marble fireplaces are a testament to its grandeur and significance in the Boston area. The Stevens Estate is one of the few remaining grand estates of the Victorian era.
Anne Bradstreet, America's First Poet
Anne Bradstreet was born in 1612 in England into an educated and well connected family. In 1628, at sixteen, she married her childhood friend, Simon Bradstreet. Two years later she and Simon and her parents sailed to Massachusetts on the ship Arabella. The Bradstreets lived in Cambridge, and Newtowne, and then moved north to Ipswich. Sometime before 1644 they moved again, this time settling with their family in North Andover, where Anne lived until her death in 1672. Her family, which included eight children was active int he political life of the colony. Both her father and her husband served as Governor of Massachusetts.
North Andover Churches
First-Calvary Baptist Church In North Andover
First United Methodist Church of North Andover
Gracepoint Community Church
Merrimack Valley Presbyterian Church
North Parish Unitarian Church
St Paul's Episcopal Church
St Gregory Armenian Church
St Michael Church
Trinitarian Congregational Church
More About North Andover:
Search all homes for sale in North Andover MA
Search all condos for sale in North Andover, MA