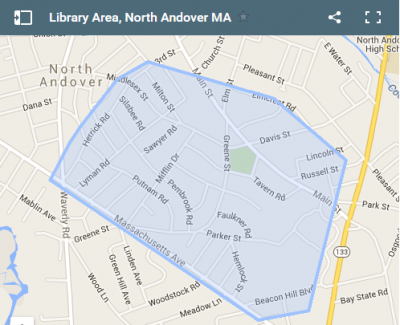 The Library Area in North Andover, MA is located within the boundaries of Massachusetts Ave, Waverly Road, Main Street and Route 125. The neighborhood is within walking distance to schools, the library, church, the park and town center.
The Library Area neighborhood and homes are a throwback to the 50's. There's a wide variety of home styles; capes, ranches, colonials, as well as some newer homes. The lot sizes vary, they're typically smaller, about one third of an acre to an acre. This is a classic neighborhood where everyone walks to school together and all know one another.
Find out what your Library Area Home is worth now!
See recently sold homes in the Library Area now!
We live in the Library Area in North Andover and love it! We enjoy the family neighborhood, friendly neighbors, seeing our daughter outside playing with friends, the conveniences of being within walking distance to town, school, the library, and the park.
There is no documented street list of the Library Area that we've found, but living in this neighborhood ourselves, we have determined the following streets are located within the Library Area in North Andover:
Beech Ave, Bradstreet Rd, Cabot Rd, Chapin Rd, Davis St, Douglas Rd, Edmands Rd, Elmcrest Rd, Greene St, Hamilton Rd, Hemlock St, Herrick Rd, Holbrook Rd, Lincoln St, Little Rd, Lyman Rd, Magnolia Dr, Middlesex St, Mifflin Dr, Milton St, Norman Rd, Park Way, Parker St, Pembrook Rd, Pilgrim St, Poplar St, Putnam Rd, Richardson Ave, Russell St, Saltonstall Rd, Sawyer Rd, Silsbee Rd, Spruce St, Tavern Rd, Tyler Rd, Walnut Ave, West Bradstreet Rd, West Woodbridge Rd, Woodbridge Rd, Young Rd
If you're looking to buy or sell your home in the Library Area in North Andover, give us a call, we'd love to help! (978)494-0346 or Contact Us
Homes for sale in the Library Area of North Andover, MA:
See More Homes For Sale in North Andover MA!